Metal Roofing Products
Your commercial roof is a vital part of the building protecting your assets from the elements of water intrusion and heat transfer on hot summer days. Whether you are looking to extend the life of your existing roof system or looking for full replacement, we can handle all your needs.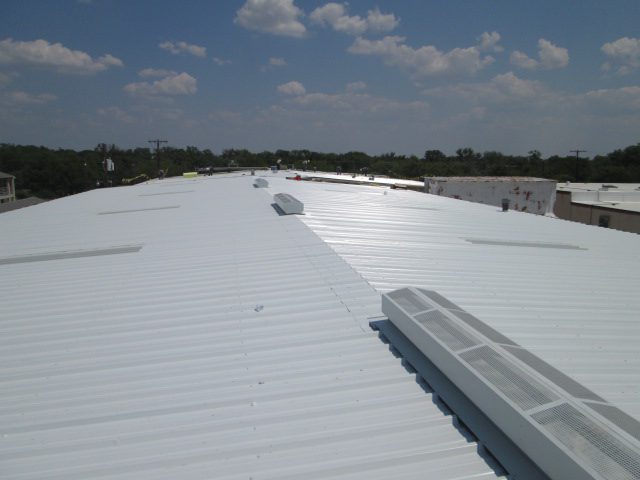 A cool white energy efficient roofing system can turn your worn out roof from a liability into an asset.  In addition to being hail resistant, this system is backed by the best manufacturer's warranty available and may even qualify your roof for insurance discounts.
Nelson Roofing Company is experienced in all types of metal roof replacement including R-Panel, Standing Seam, and Corrugated. We install all grades of metal roofing including thick 22 & 24 gage white energy efficient roofing. We use only the best manufacture brands, guarantee our work, and include the manufacturer's warranty on every job.
When full roof replacement is not a viable option, roof coatings may be an alternative at approximately half the cost of a total tear off and replacement. Roof coatings and restoration can extend the life of the existing roof as well as provide the same benefits as a new energy efficient roof.
Another alternative to metal roof replacement is to overlay your existing metal roof by installing energy efficient white TPO roofing over it. This method will extend the life of the roof and also provide extra energy savings.